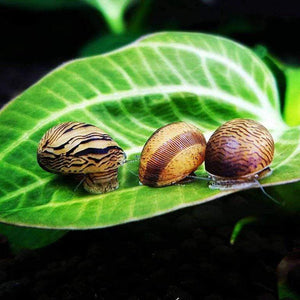 Guaranteed Secured Checkout
Nerite snails are one of the best options when trying to keep your tank clean, whether it's freshwater or saltwater. They spend most of their time moving around the tank, consuming any algae in their path.
At Melbourne Tropical Fish, we use Nerite snails in a lot of. our tanks to keep the tanks free of algae.
Snails are ideal for beginner, as they are likely to make a few mistakes. They are very easy to care for and have few demands once you've added them to your tank.
They are also easy to breed so your snail population can quickly multiply.
At less than an inch long they won't worry anyone who's space conscious and they can be kept in smaller tanks.