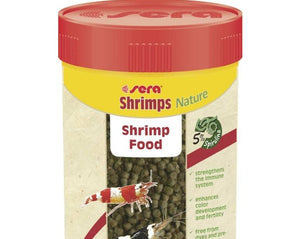 Guaranteed Secured Checkout
Sera Shrimps Nature is the perfect food choice for both freshwater and marine shrimps. It consists of granules made without dyes or preservatives, and its nutrient-rich ingredients—spirulina and alder cones—are close to nature, providing all the essentials your shrimp need for healthy growth and safe molting. This specially formulated food enhances fertility, coloration, and disease resistance, plus the sinking small granules take a long time to dissolve so that your shrimp can graze them as they would in their natural environment.
Why Sera Shrimp food is an excellent source of nutrition as Melbourne Tropical Fish's number one choice.
Sera Nature Shrimp Food is made from natural ingredients such as Spirulina, Krill, or sustainable insect meal from soldier fly larvae (Hermetia). It does not require any dyes or preservatives – so your shrimp can enjoy a balanced and nutritious diet! The packaging also features signets that highlight the ingredients used in the food and their quantities. With this premium shrimp food, you can be sure of providing superb nutrition for your shrimp - and supporting their overall health and liveliness.