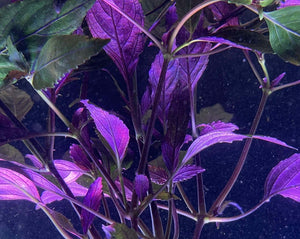 Guaranteed Secured Checkout
Purple Temple Bunch - Hemigraphis exotica These aquarium plants will do great in shallow aquariums where the plant is able to grow above the water with the base in the water and even suitable  in Terrariums. 
Purple temple planst are stunning in colour.
Enhance your aquarium's beauty with our exquisite purple temple aquarium plant. This stunning aquatic addition not only adds vibrant colour to your underwater paradise but also provides a serene sanctuary for your fish.