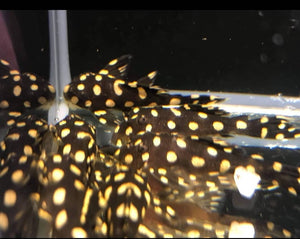 Guaranteed Secured Checkout
L007 Vampire Pleco - Limited Stock 3cm - Exceptional Quality
 
Limited Stock
 
L007 Vampire Pleco 
 
The Vampire Pleco originates from Brazil, these fish listed for sale are bred by a local breeder in Australia,
 
This species grows to a 25cm and will require a large aquarium with soft, acidic water. The water should be well-filtered and a decent current should be provided to simulate their home environment.
 
They are an omnivorous species so should be fed a diet of foodstuffs including sinking catfish pellets/tablets/algae wafers and frozen foods such as bloodworm, white mosquito larvae, spirulina-enriched brineshrimp, Mysis shrimp, chopped krill etc, as well as a good proportion of vegetable matter.
 
Scientific Name
 
Leporacanthicus cf galaxias
 
Description:
 
Maximum Size
Up to 25cm.
 
Water Quality
 
Tolerates a wide range of water conditions and easy to look after.
 
Temperature: 22°C — 26°C
 
pH: 5.6 — 7.0
 
Melbourne Tropical Fish Dandenong - UNBEATABLE PRICES
Factory 2, 41-43 Sinclair Road Dandenong VIC 3175
 
Online Live Fish Door to Door Delivery is Now AVAILABLE !
www.melbournetropicalfish.com.au
 
Weekdays - 11am to 5pm
Weekends - 10am to 5pm