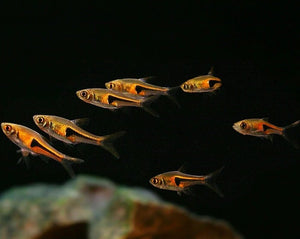 Guaranteed Secured Checkout
The Glowlight Rasbora Trigonostigma hengeli (previously Rasbora hengeli) is a pretty little fish that many aquarists fall in love with, and rightfully so. This simply-dressed fish has lots of hidden charm and is always on the move. A school of these in the aquarium creates bright little flickers of glowing color all across the upper levels of the tank.
These tiny fish only reach just over 3 cm in length but are surprisingly eye-catching in appearance. Their coloring ranges from a translucent ivory to a pink-flushed orange. In healthy specimens, the fins are a distinct lemon yellow. Their most distinguishing feature is a bright stroke of neon orange just above a thin black marking along the back half of their body. Thus, they are called Glowlight Rasbora as well as Glowing Rasbora and Hengel's Rasbora.