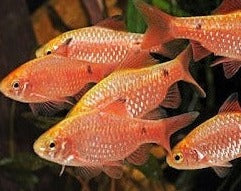 Guaranteed Secured Checkout
The Rosy Barb is one of the most beautiful freshwater fish. This barb has a silvery or coppery-pink colour with a green cast along the back, and the males will have more pink on their underbellies. These fish are hardy, undemanding, and fun to watch because they are constantly on the move. These qualities make them one of the most desirable starter fish.
The Rosy Barb is a beautiful fish species that originates from the Western Pacific. They are easy to care for and can be found at pet stores in North America, Europe, Asia and Australia. Here's everything you need to know about this popular tropical fish: what they look like, how big they grow, what type of food they eat and more!
The Rosy Barb belongs to the Cyprinidae family and is closely related to other barb species, like the Red Barb, Goldfish and Guppy.