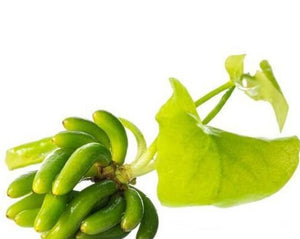 Guaranteed Secured Checkout
Banana lily gets its name from the banana look alike of its roots, near the leaves.  The leaves of the Banana lily are rounded with a notch at the base. The Banana lily is normally green on top and reddish or purple need the roots.

The Banana Lily does well in moderate to strong light and has an easy care rating

The parent plant produces the root formation under the mature lily pads which float at the surface. The stems of the mature pad rot away then the pad with the new plant attached drifts off to find a new home.

Please note that because this is a natural product shapes of the picture are an indication only.