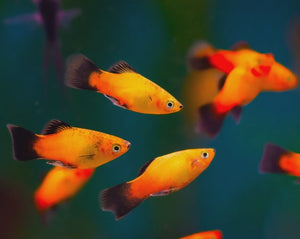 Guaranteed Secured Checkout
Platy is a common name of freshwater fish in the genus Xiphophorus that lacks a "sword" at the bottom of their tails. Both species are livebearers, similar to other fish of the family Poeciliidae, such as the guppy and molly. Platies are native to the east coast of Central America and southern Mexico.
Platy fish look absoloutley stunning in groups and the Melbourne Tropical Fish bulk platy deal allows you to purcase an assortment of Platy fish at a competitive price.
 the epitome of "team players." They're one of the quintessential community fish because they get along well with others.  Platy are fantastic community fish.