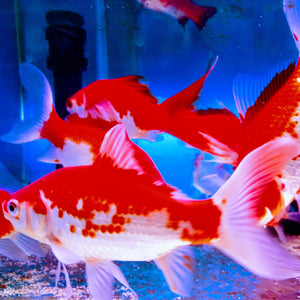 Guaranteed Secured Checkout
Giant sized, Jumbo Red and White Comets, also known as Sarasa Comets, are a stunning and large species of goldfish which are suitable for either ponds or larger fish tanks. Despite their close resemblance to the Koi carp, they are not the same species and should not be held without proper authorisation due to their classification as a noxious aquatic species in Victoria. Red and White Comets devour sinking pellets, meaty treats such as chopped shrimp or frozen foods, fruits, and vegetables. In order to maintain optimal health they need clean, well-oxygenated water with ideal water conditions that can actually help extend their lifespan which is usually between 10-20 years! Other than providing them with an interesting environment full of lush decorations that they can explore around it's essential to give these beautiful creatures lots of love so they will remember their owners over the years!
These fish would make an excellent addition to your garden pond, they are a hardy fish and are easy to keep. Melbourne Tropical Fish can ship red and white comets to most parts of Australia except WA and Tasmania.