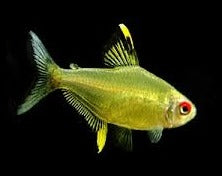 Guaranteed Secured Checkout
The lemon tetra is a species of tropical freshwater fish which originates from South America, belonging to the family Characidae. It is a small tetra growing to 5 cm in length. The species is a long established favourite aquarium fish.
Overall, lemon tetras are hardy enough to tolerate a generous range of conditions. It's always good to aim for the middle of these ranges to ensure that there's some comfortable wiggle room for your fish!
Water temperature:

 

72°F to 82°F
pH levels:

 

5.5 to 8.0 (neutral leaning slightly toward acidic is best)
Water hardness:

 

3 to 20 dGH