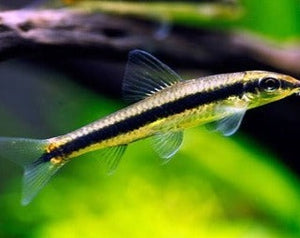 Guaranteed Secured Checkout
Siamese Algae Eaters otherwise known are absolutely brilliant at eating algae in your aquarium and we at Melbourne Tropical Fish believe that this is a must have in a planted aquarium.
The Siamese Algae Eater, or scientifically known as Crossocheilus siamensis, is a popular and highly successful aquatic species in aquariums. Not only can it help keep tank floors clean and free of algae, but it also has an appetite for the dreaded black beard algae, unappetising to other aquarium species.
Siamese algae eaters are a popular choice for fish tanks, largely due to their effectiveness in eating red algae. They typically reach about 15 centimetres (6 inches) in length after two years and can live up to 10 years with proper care. This species of fish is known for its ability to tackle stubborn aggregations of algae that many other types can't seem to manage!
The Siamese Algae Eater is a hardy fish that is tolerant of most water conditions and can live in aquariums with plenty of filtration and moderate to high water movement. Despite its hardiness, it is known to jump out of the tank at times, so be sure to have a secure cover on the tank. When feeding this active fish, offer it mostly high-quality dry food mixed with vegetables like zucchini or cucumber. Offer meaty foods sparingly as too much protein can lead to health issues in this species.