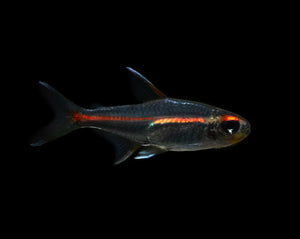 Guaranteed Secured Checkout
Hemigrammus erythrozonus, commonly known as the glowlight tetra, is a small tropical fish from the Essequibo River, Guyana, South America. Surprisingly, this orange neon tetra is quite easy to care for. It is silver in colour and a bright iridescent orange to red stripe extends from the snout to the base of its tail, the front of the dorsal fin being the same color as the stripe. A school of these fishes can impress even an experienced and skilled aquarist. With aging the fish body color becomes more and more saturated and the fish becomes more vibrant in colour.
Temperature: 75-82°F (24-28°C)
pH: 5.5-7.5. Although it will survive in slightly alkaline water, it tends to be more colourful when kept in acidic conditions.
Hardness: 2-15°H