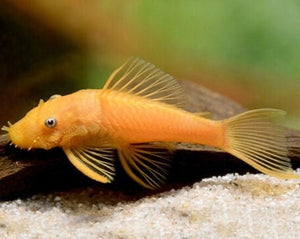 Guaranteed Secured Checkout
Albino Bristlenose
One of the most popular fish aquarium fish is the albino Bristlenose Pleco. It is very different from other pleco due to its lighter colouring. Hardy and tolerates a wide range of conditions. Useful algae eater. The albino form is an aquarium strain, albino bristle nose develop a golden body colour as they grow.
The Bristlenose is a tank cleaner that you will find in just about any aquarium, they do a fantastic job of eating left over food and keeping algae under control.
Albino Bristlenose Pleco is a mostly brown fish marked with light spots. They can blend in the shore and rock bottom thanks to their light-yellow or white appearance. Thanks to their whiskers on their mouth/nose it is a lot easier for them to find food.